Administration
Haruo Shirane
Department Chair
Shincho Professor of Japanese Literature
Haruo Shirane's fields of interest are Japanese literature, visual culture, and cultural history, with particular focus on intertextuality and language, text/image relations, popular and elite subcultures, and culture and power.
Wei Shang
Deputy Chair
Phone: (212) 854-1526
Email: ws110@columbia.edu
Du Family Professor of Chinese Culture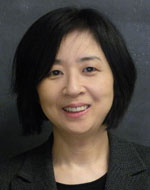 Tomi Suzuki
Acting Director of Graduate Studies
Phone: (212) 854-5034
Email: ts202@columbia.edu
Professor of Japanese Literature
Paul Anderer
Director of Undergraduate Studies
Phone: (212) 854-1525
Email: pja1@columbia.edu
Mack Professor of Humanities, Professor of Japanese Literature
Gal Gvili
MA Program Director
Email: gg2336@columbia.edu
Lecturer in Discipline
Gal Gvili specializes in modern and contemporary Chinese literature, comparative literature and literary and cultural theory, with particular interests in gender, religion, and the transnational travel of emotions and ideas.
Ying Qian
MA Faculty Advisor
Phone: (212) 854-5027
Email: yq2189@columbia.edu
Assistant Professor of Chinese Literature, Film, and Media Studies
Ying Qian's fields of interest are in Chinese literature, cinema and media studies, including documentary cinema in comparative perspectives, experience and memory of China's revolutions and socialism, and writing, translation and filmmaking in China's multi-lingual and multi-ethnic border regions and among the Chinese diaspora.
Harrison Huang
China Course Coordinator
Phone: (212) 854-8545
Email: hh2641@columbia.edu
Assistant Professor
Harrison Huang received his Ph.D. from The University of California, Berkeley. He specializes in medieval Chinese poetry and intellectual history. His research interests include literary criticism, genre theory, classics exegesis, metaphors in paradigms of knowledge, and the role of emotion and desire in conceptions of self-cultivation. His current book project situates Xie Lingyun (385–433) and the formation of Chinese landscape poetry within traditions of kingship, imperial performance, and estate power.

Greg Pflugfelder
History-East Asia Program Coordinator
Phone: (212) 854-5035
Email: gmp12@columbia.edu
Associate Professor of Japanese History
Gregory Pflugfelder specializes in Japanese history and gender studies, with an emphasis on cultural history; the history of gender, sexuality, and the body; and constructions of monstrosity.
Administrative Staff

Youngmi Jin
Director of Academic Administration and Finance
Phone: (212) 854-5028
Email: yj2180@columbia.edu
Laura Schlein
Program Manager
Executive Assistant to the Chair
Phone: (212) 854-6780
Email: ls3352@columbia.edu
Kevin Stillwell
Academic Coordinator
Phone: (212) 854-0755
Email: ks3453@columbia.edu
Anri Vartanov
Business Manager
Phone: (212) 854-3811
Email: av2357@columbia.edu