MTSP Book Launch: ​​A Buddhist Sensibility: Aesthetic Education at Tibet's Mindröling Monastery (Columbia University Press, 2021)-author Dominique Townsend in conversation with Janet Gyatso
October 29 @ 12:30 pm

-

2:00 pm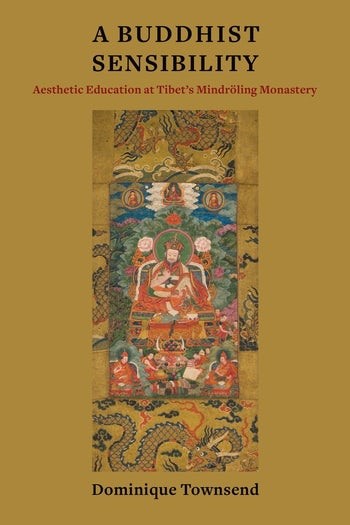 Dominique Townsend is Assistant Professor of Buddhist Studies at Bard College. She has a BA from Barnard College, an MTS from Harvard Divinity School, and a PhD from Columbia University. Her research focuses on Buddhist aesthetics and cultural production with a specialization in early modern Tibetan history. Presently she is working on a new project on poetics and translation. In addition to her academic publications, she is the author of a book of poems called The Weather & Our Tempers and a children's book called Shantideva: How to Wake Up a Hero.
Janet Gyatso is Hershey Professor of Buddhist Studies and Associate Dean for Faculty and Academic Affairs at Harvard Divinity School. A specialist in Buddhist studies with concentration on Tibetan and South Asian cultural and intellectual history, Gyatso was elected to the American Academy of Arts and Science in 2018. She was president of the International Association of Tibetan Studies from 2000 to 2006, and co-chair of the Buddhism Section of the American Academy of Religion from 2004 to 2010. Her 2015 book Being Human in a Buddhist World: An Intellectual History of Medicine in Early Modern Tibet (Columbia University Press) focuses upon alternative early modernities and the conjunctions and disjunctures between religious and scientific epistemologies in Tibetan medicine in the sixteenth–eighteenth centuries. Her other books include Apparitions of the Self: The Secret Autobiographies of a Tibetan Visionary; In the Mirror of Memory: Reflections on Mindfulness and Remembrance in Indian and Tibetan Buddhism; and Women of Tibet.
Founded in 1676 during a cosmopolitan early modern period, Mindröling monastery became a key site for Buddhist education and a Tibetan civilizational center. Its founders sought to systematize and institutionalize a worldview rooted in Buddhist philosophy, engaging with contemporaries from across Tibetan Buddhist schools while crystallizing what it meant to be part of their own Nyingma school. At the monastery, ritual performance, meditation, renunciation, and training in the skills of a bureaucrat or member of the literati went hand in hand. Studying at Mindröling entailed training the senses and cultivating the objects of the senses through poetry, ritual music, monastic dance, visual arts, and incense production, as well as medicine and astrology.
Dominique Townsend investigates the ritual, artistic, and cultural practices inculcated at Mindröling to demonstrate how early modern Tibetans integrated Buddhist and worldly activities through training in aesthetics. Considering laypeople as well as monastics and women as well as men, A Buddhist Sensibility sheds new light on the forms of knowledge valued in early modern Tibetan societies, especially among the ruling classes. Townsend traces how tastes, values, and sensibilities were cultivated and spread, showing what it meant for a person, lay or monastic, to be deemed well educated. Combining historical and literary analysis with fieldwork in Tibetan Buddhist communities, this book reveals how monastic institutions work as centers of cultural production beyond the boundaries of what is conventionally deemed Buddhist.
For more information about the book, please click here.
This event is the second of two book launches organized by the Modern Tibetan Studies Program this fall, and is co-sponsored by the Weatherhead East Asian Institute and the C.V. Starr East Asian Library, Columbia University.
Contact Information
Lauran Hartley
Details
Date:

October 29

Time:

12:30 pm - 2:00 pm