(Special Live Webinar) Marking the 10th Anniversary of the 2011 Great East Japan Earthquake
03/23/2021 @ 8:00 pm

-

9:15 pm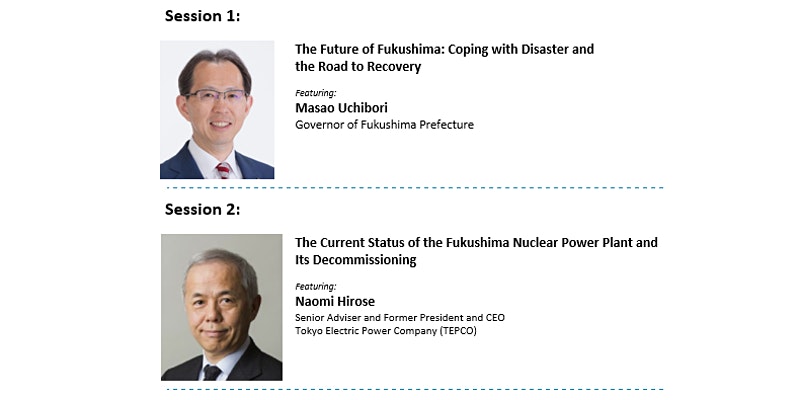 (Special Live Webinar) Marking the 10th Anniversary of the 2011 Great East Japan Earthquake
Tuesday, March 23, 2021 | 8:00–9:15 PM (EDT)
Wednesday, March 24, 2021 | 9:00–10:15 AM (Japan Time)
This webinar is part of the Chazen Global Spotlight series.
Register here.
Session 1
"The Future of Fukushima: Coping with Disaster and the Road to Recovery"
Featuring: Masao Uchibori, Governor of Fukushima Prefecture
Session 2
"The Current Status of the Fukushima Nuclear Power Plant and Its Decommissioning"
Featuring: Naomi Hirose, Senior Adviser and Former President and CEO, Tokyo Electric Power Company (TEPCO)
Student Moderator (Session 1 and Session 2) :
Takayuki Nakagawa, MBA '22, Columbia Business School
Cosponsors:
Center on Japanese Economy and Business, Columbia Business School
The Jerome A. Chazen Institute for Global Business, Columbia Business School
Synopsis:
In Session 1, using the concepts of "Light and Shadow" and "Challenges," Governor Uchibori from Fukushima Prefecture will talk about the steps for revitalization and Fukushima's efforts after the compound disaster of the Great East Japan Earthquake, the nuclear accident, and the resulting issue of harmful rumors, as well as the fading of memories related to the disaster over time. He will also discuss the future of Fukushima.
In Session 2, Mr. Hirose from TEPCO will look back at the Fukushima nuclear accident and review the current status of the nuclear power plant and its decommissioning, including progress with radiation levels and the present state of the evacuation zone. He will also provide updates on their handling of debris and spent fuel and visuals of the Fukushima plant.
About the Speakers:
Session 1:
Masao Uchibori assumed office as Governor in November 2014 and was reelected in 2018. Prior to becoming Governor, he served as Vice Governor from 2006 to 2014. Governor Uchibori previously worked for the Ministry of Internal Affairs and Communications (prev. Ministry of Home Affairs) from 1986 and he later joined the Fukushima prefectural government in 2001.
Since the Great East Japan Earthquake occurred in March 2011, he has been making every effort towards the reconstruction and revitalization in Fukushima as well as taking countermeasures for the nuclear power station disaster.
He graduated from the University of Tokyo and received a Bachelor of Economics in 1986.
Session 2:
Naomi Hirose is the former President / CEO whose service at the Tokyo Electric Power Company (TEPCO) spans four decades.
He joined the company in 1976, having gained an appreciation for the energy industry following the 1973 Oil Shock, and worked in a number of management positions from 1992 to 2005, including corporate planning, sales, marketing, and customer relations.
Mr. Hirose became an executive officer in 2006, and in 2008, conceived and spearheaded a campaign promoting the economic and environmental benefits of electrification, called "Switch" that was a Japan-first. In 2010, he re-energized the company vision for global expansion.
Immediately after the 3.11 Fukushima Accident, Mr. Hirose dedicated himself to create the system for Nuclear Damage Compensation. After becoming President and CEO in 2012, he led the company in addressing a number of highly complex issues such as water management and decommissioning plans for the Fukushima Daiichi Nuclear Power Station, compensation for the accident and Fukushima revitalization, and keeping TEPCO competitive while facing the deregulation of Japan's electricity market.
He currently serves as Senior Adviser.
Mr. Hirose received his B.A. in Sociology from Hitotsubashi University in 1976, and his MBA from Yale School of Management in 1983.
Student Moderator:
Takayuki Nakagawa is currently studying as an MBA student in Columbia Business School's Class of 2022. Before starting his MBA, he worked as a management consultant in A.T. Kearney's Japan Office, advising leading organizations in a variety of engagements all over the world, focusing mainly on the healthcare industry, such as big pharma, medical appliance companies, and public agencies involved in healthcare. Mr. Nakagawa graduated from University of Tokyo and got a master's degree in Pharmaceutical Science before starting his career as a consultant.
Admission and Contact:
This is a free event. You must register for the webinar to receive the login details. Participants will receive a link to access the live webinar upon registration.
If you have questions about the event, please contact us at cjeb@gsb.columbia.edu.
For any media inquiries, please contact Ryoko Ogino at ro2213@gsb.columbia.edu.
For more information about other CJEB events, visit CJEB website or contact cjeb@gsb.columbia.edu.
For more information about other Chazen events, visit Chazen website.